Glamping Expedition – The Mountains of Swedish Lapland
Glamping Expedition – The Mountains of Swedish Lapland
"Swedish Lapland The last true wilderness of Europe"
Glamping Expedition – The Mountains of Swedish Lapland
NordGuide offers a breath-taking Glamping expedition in the mountains of Swedish Lapland.
During this free riding snowmobile adventure, we will explore the vast wilderness of pristine nature preserves and the high alpine areas in the borderland of the World Heritage Site Laponia.
This free riding snowmobile adventure futures breath-taking scenery and true wilderness, you will experience ice-fishing in pristine nature and exploring the vast wilderness of The Kvikkjokk mountains.
Accommodations and glamping in 2-4 bed Arctic lavvu´s, tents with high comfort and heating system, beautifully located where ever we choose to set our camp in the vast wilderness of Swedish Lapland
During your stay, regardless if we are having lunch out in the sun or in the comfortable tents we serve locally sourced food with local flavour-haute cuisine of Swedish Lapland.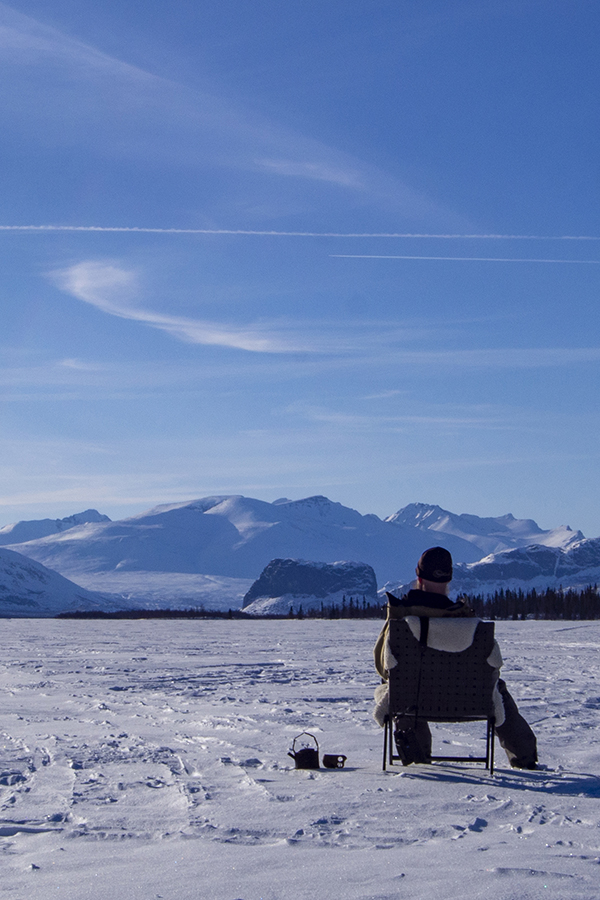 A cup of black pan coffe in the lounge chair Rapadalen – NordGuide
"Snowmobile expedition in the vast wilderness of Swedish Lapland"
Program:
Day 1
09.00 Pick up at hotel in Luleå, the guide will meet you for transfer to the mountains
11.30 lunch
13.00 Snowmobile expedition out in the wilderness
With all expedition equipment's on sledges behind our snowmobiles.
15.00 Arrival camp site, we set the camps
18.00 2-c dinner haute cuisine of Swedish Lapland
Day 2
09.00 Breakfast served in the tent
Exploring the area and surroundings, ice-fishing
13.00 Lunch will be served beside the camp fire or in a cabin/tent
18.002-c dinner haute cuisine of Swedish Lapland
Day 3
09.00 Breakfast served in the tent
Ice fishing around camp
12.00 Lunch
Taking down our camp and packing the sledges
14.00 Snowmobile expedition back to the car
16.00 Transfer back to hotel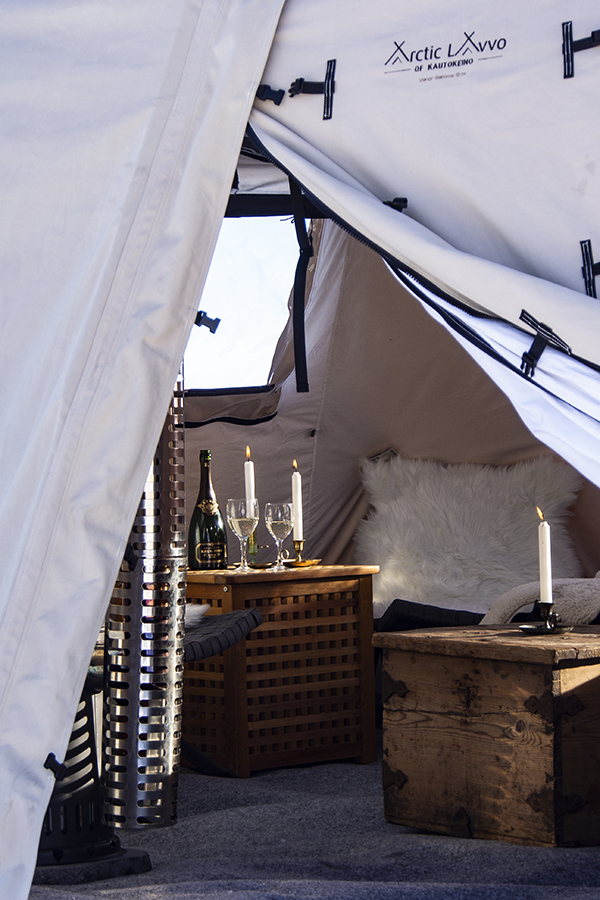 "Join us for an adventure of a lifetime"
Information:
Available dates 2019:
February-April
Including in your adventure:
• All ground transfer with car/minibus
• All meals Haute cuisine from Swedish Lapland
• Selected wines and beverages
• All accommodations in glamping tents
• Sleeping bags
• 1 x 2 Professional guide service
• wild animal safari
• Ice-fishing for arctic char and brown trout
• 2p/per Snowmobile
• Snowmobile clothes and equipment's
Not including in your price:
• Single snowmobiles
• Capercaillie hunting
• Willow grouse and ptarmigan hunting
(Everything is available)
Price: 2 p 1×2 professional guide service:
Price per/person (incl.VAT): SEK 27 500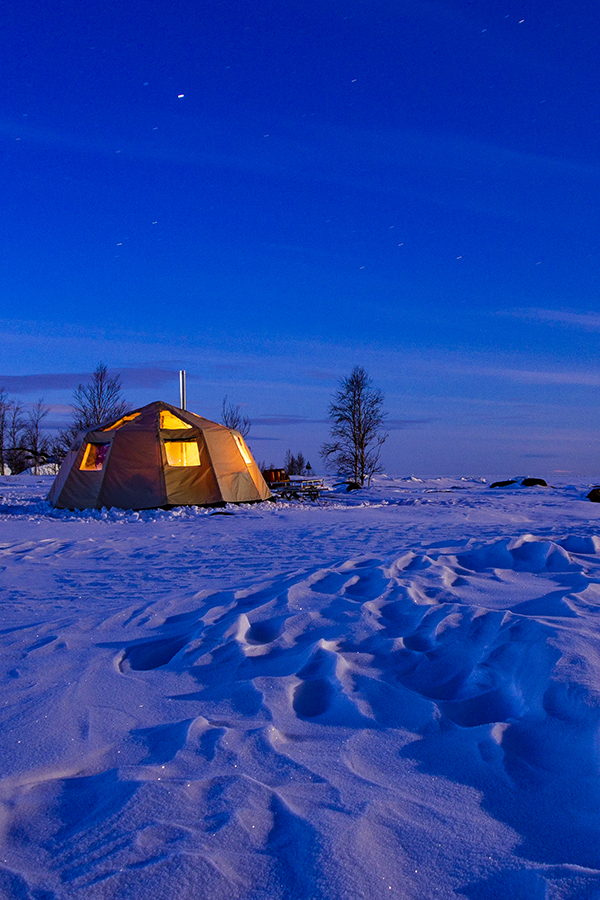 Aurora  safari,nordguide pc Per lundström
"Experience a true snowmobile adventure in the wild nature of Swedish Lapland"
Gallery from this area
Snowmobile expedition - NordGuide

Snow adventures

Polaris titan NordGuide

Camping on Ice

Icefishing in lounge chair Rapadalen NordGuide

Glamping in style

Champange in the arctic lavvu NordGuide

Northern Light Night

Aurora Borealis over the tent in the mountains NordGuide

Camping

Arctic lavvu glampning evening – NordGuide

Glamping

Arctic lavvu in moonlight

Arctic lavvu glamping in Luleå – NordGuide
Accomodation & Haute cuisine of Swedish Lapland
"REGARDLESS IF YOU CHOOSE TO STAY IN A WOOD HEATED HUNTING CABIN OR IN A LUXURY CHARLET WE COMBINE YOUR STAY WITH SELECTED WINES AND LOCALLY SOURCED FOOD WITH LOCAL FLAVOUR-HAUTE CUISINE OF SWEDISH LAPLAND"
Margaux in the hunting cabin Nordguide

A glas of wine in front of the fireplace

Kalix caviar and champange Nordguide

Kalix caviar and champange Nordguide

Oysters on the glacier-rocks before the sauna

Nordguide serves Oysters on the glacier-rocks before the sauna

Aurora outside the camp

Aurora, pc ivan segerström

Hunting cabin

Sunrise from the cabin window,nordguide

A buef of Moose,nordguide

After a long days hunt we serve a Buef of moose primerib

The kids having lunch,nordguide

A good meal after a day in the snow

The kids having lunch,nordguide