Brown trout fishing in Swedish Lapland 
Brown trout fishing in Swedish Lapland 
"Fly-fishing in the vast wilderness of Swedish Lapland"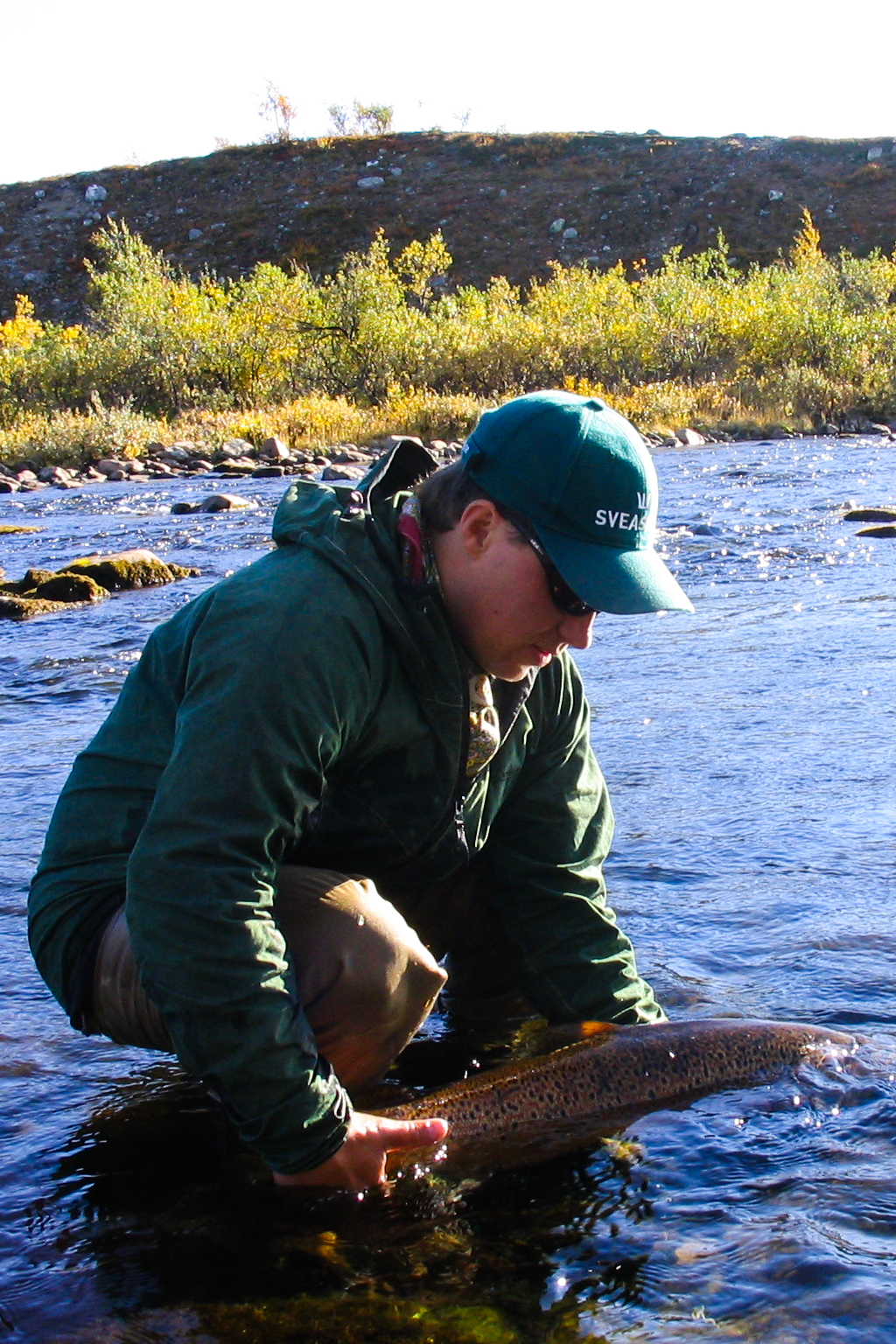 Dan releases a big trout,nordguide
The brown trout is a medium-sized fish, growing to 15kg. The official Swedish record is 17kg, although in many smaller rivers, a mature weight of 1kg or less is common. In addition to sea-migrating trout, there are stationary Salmo trutta in Lapland, Sweden.
Trout of considerable weight are caught everywhere, from small meanderin streams to the sparkling clear waters of mountain lakes; and using everything from fly to pure trolling bait. We believe that as long as the water is good, the trout remain.
You catch them anywhere, from forest brooks to our state-protected national rivers.
The most common methods are fly and spinner. It is easiest to catch those big trout using bait that resembles other fish.
Lake fishing for trout has changed over the years. The big hydropower reservoirs are the habitat of large-growth trout which trolling anglers have targeted.
These "hydropower trout" are also caught using methods other than trolling. Early in the season, when the big brown mayfly hatches, you can enjoy crazy dry fly fishing for these species.
Most commonly you catch them with bait imitating other fish.



Brown trout fishing adventure
5-days Bespoke Brown trout fishing adventure in Swedish Lapland
Brown trout fishing adventure
5-days Bespoke Brown trout fishing adventure in Swedish Lapland
"Join us for an adventure of a lifetime"
Gallery from this area
Big Brown trout,nordguide

Big brownie

Brown trout fishing in Swedish Lapland

CoR Big brownie, pc Dan.nordguide

Fly-fishing for big trouts, Swedish Lapland

Brown trout fishing pc Krisse

Brown trout fishing in Swedish Lapland

Big hog taken by Matte pc: krisse

Trout beat,nordguide

The Konjak pool, nordguide

Trout fly-fishing in Swedish Lapland

Nice trout CoR,Pc Isak.sandling

Big trout taken by Mattias

Big brown trout

Heli-fishing in Swedish Lapland

Fiskflyg did a good job,Nordguide

The rods on the car

Loop,nordguide

Isak strikes big trout

Pc Isak

Big trout from the mountains

Big brownie pc staffen
Accomodation & Haute cuisine of Swedish Lapland
"REGARDLESS IF YOU CHOOSE TO STAY IN A WOOD HEATED HUNTING CABIN OR IN A LUXURY CHARLET WE COMBINE YOUR STAY WITH SELECTED WINES AND LOCALLY SOURCED FOOD WITH LOCAL FLAVOUR-HAUTE CUISINE OF SWEDISH LAPLAND"
Margaux in the hunting cabin Nordguide

A glas of wine in front of the fireplace

Kalix caviar and champange Nordguide

Kalix caviar and champange Nordguide

Oysters on the glacier-rocks before the sauna

Nordguide serves Oysters on the glacier-rocks before the sauna

Dinner inside the fishing camp

Camp Kangos, pc Ryan Heffron

Sauna, nordguide

August Sauna, pc ryan heffron

Fishing cabin august, nordguide

Cabin ryan heffron

A buef of Moose,nordguide

After a long days hunt we serve a Buef of moose primerib

Sauna and Jaccuzzi

After a hard day of fishing you need to relax for a while

Salmon camp

A great accommodation with access, pub, sauna, single rooms