Grayling fishing in Swedish Lapland 
Grayling fishing in Swedish Lapland 
"Fly-fishing in the vast wilderness of Swedish Lapland"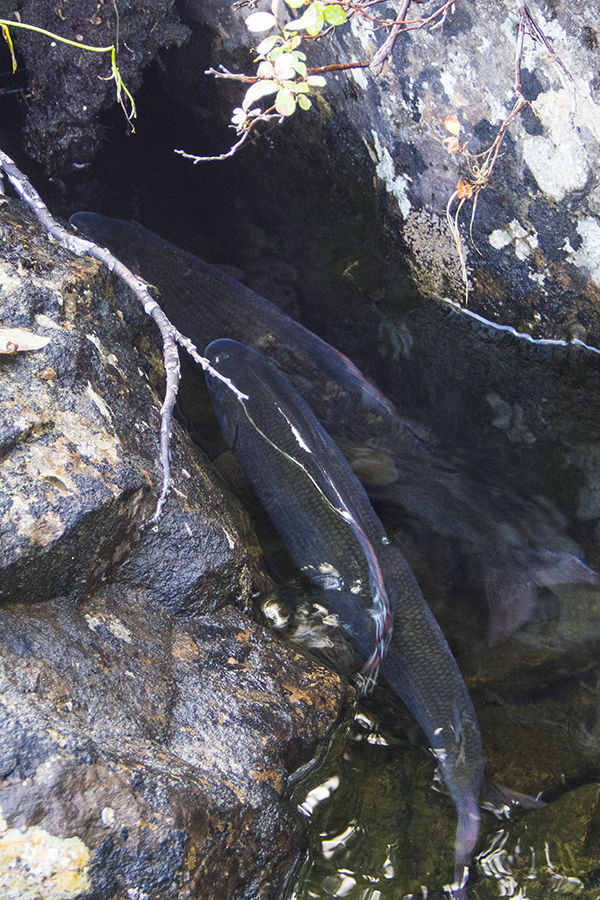 Two Graylings CoR,Nordguide
Grayling
Thymallus thymallus
The grayling is a species of freshwater fish in the salmon family and prefers cold, clean, running waters, but also is in lakes and, in brackish waters around the Baltic sea. The grayling grows to a length of 70 cm and up to 3kg, the official Swedish record is 2,850 kg.
The fish has a big fin on the back.
The grayling or as some call it "the lady of the stream" feeds mainly on insects, sedges and smaller fishes. It is a favourite fish for the fly fisherman.
The author Gunnar Westrin has called the grayling the Sunfish. On a sunny day, you can catch the biggest grayling of your life. On an overcast day without much
angling success, a big grayling can light up your life.
The grayling of Lapland, Sweden is a special creature. It can be found in mountain lakes, forestland and in the Gulf of Bothnia.
The sea grayling thrives in the brackish water of the Gulf of Bothnia. You often find it around the mouths of large streams, as well as among the rocks and skerries of the outer archipelago. Fly fishing anglers find this fish a great challenge.
In the forests of Lapland, Sweden there are tarns, ponds, lakes and running water with a strong population of grayling. Catches of over 1 kg are not unusual.



Grayling fishing adventure
5-days Bespoke Grayling fishing adventure in Swedish Lapland
Grayling fishing adventure
5-days Bespoke Grayling fishing adventure in Swedish Lapland
"Join us for an adventure of a lifetime"
Gallery from this area
Grayling adventure,nordguide

Grayling fly-fishing in Swedish Lapland,nordguide

Grayling fishing in Swedish Lapland

CoR Grayling,nordguide

Grayling in the net

Grayling fishing in the midnight-sun

Grayling fishing in Swedish Lapland

Henriks first 50cm Grayling,nordguide

Grayling beat,nordguide

The Konjak pool, nordguide

Grayling fly-fishing in Swedish Lapland

Nice Grayling CoR,nordguide
Accomodation & Haute cuisine of Swedish Lapland
"REGARDLESS IF YOU CHOOSE TO STAY IN A WOOD HEATED HUNTING CABIN OR IN A LUXURY CHARLET WE COMBINE YOUR STAY WITH SELECTED WINES AND LOCALLY SOURCED FOOD WITH LOCAL FLAVOUR-HAUTE CUISINE OF SWEDISH LAPLAND"
Margaux in the hunting cabin Nordguide

A glas of wine in front of the fireplace

Kalix caviar and champange Nordguide

Kalix caviar and champange Nordguide

Oysters on the glacier-rocks before the sauna

Nordguide serves Oysters on the glacier-rocks before the sauna

Dinner inside the fishing camp

Camp Kangos, pc Ryan Heffron

Sauna, nordguide

August Sauna, pc ryan heffron

Fishing cabin august, nordguide

Cabin ryan heffron

A buef of Moose,nordguide

After a long days hunt we serve a Buef of moose primerib

Sauna and Jaccuzzi

After a hard day of fishing you need to relax for a while

Salmon camp

A great accommodation with access, pub, sauna, single rooms