Moose hunt
In the vast wilderness of Swedish Lapland
European moose
Alces alces
The European moose is a majestic herbivore well known for its big antlers.
The antler crown shows what level of fertility and strength the individual moose possesses.
The antlers are shed each year and are one of the fastest growing animal organs reaching a growth rate of up to 1.9 cm a day.
The Moose can be found in North America, Europe and Asia. In Sweden the largest moose reach up to 2 meters high at the shoulders and weigh 600-700 kilos.
It is expected that bulls that measures 250-350 CIC points. The Swedish record is 420 CIC points.
Moose is a solitary animal, although during the mating season they are closer in proximity.
The Moose hunt in Sweden has strong traditional value and aside from the meat that the hunt provides, the antlers are a sought after hunting trophy.
We hunt moose with specially trained free-running dogs that work independently and hold the moose at bay, so that the hunter can stalk and get into position to shoot. This method has long tradition in Scandinavia.
During the moose mating season, we hunt by calling. This method is the best if you are looking for bulls.
The season starts in September and ends in November.
Normally the best time is the end of September and the first half of October, when the bulls are easier to call.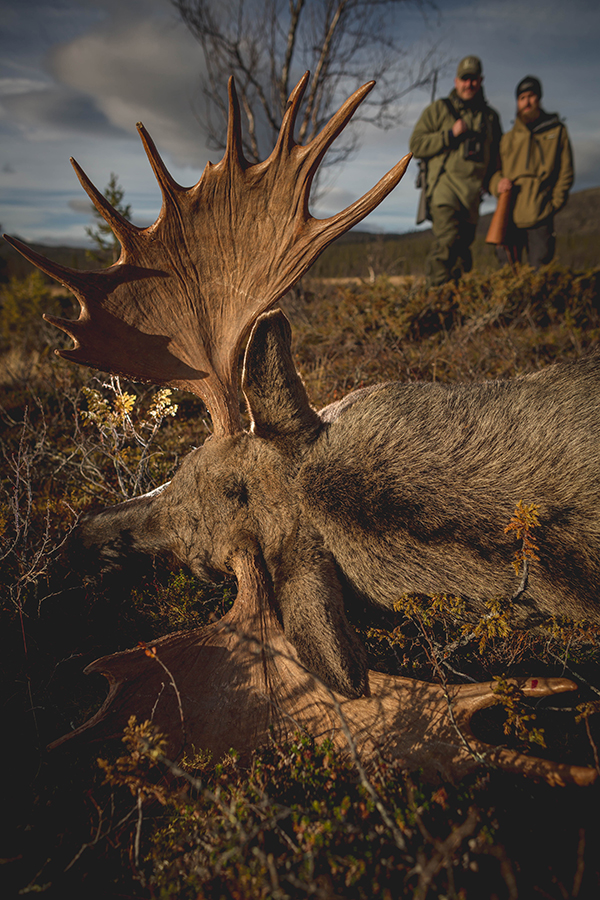 European Moose 317 CIC from our 7-day bespoke moose hunt in the Mountains
7-Day Bespoke Moose hunt in the mountains of Swedish Lapland
This adventure of a lifetime is available for two hunters in 2026
7-Day Bespoke Moose hunt in the mountains of Swedish Lapland
This adventure of a lifetime is available for two hunters in 2026
"A truly remarkable experience of a lifetime"
7-day Bespoke moose hunt in the taiga-forest of Swedish Lapland
1×1 Moose hunting adventure in the pristine wilderness of Swedish Lapland
7-day Bespoke moose hunt in the taiga-forest of Swedish Lapland
1×1 Moose hunting adventure in the pristine wilderness of Swedish Lapland
"challenge yourself by hunting the most elusive game in the world"
Traditional Moose hunting adventure in Swedish Lapland
4-day 1×4 Traditional moose hunt with working dogs
Traditional Moose hunting adventure in Swedish Lapland
4-day 1×4 Traditional moose hunt with working dogs
Moose hunting in Swedish Lapland
"We have created tailor made hunts since 1995 and our goal is to find the very best hunting grounds in Lapland, Sweden's vast wilderness. This is the natural habitat for the most elusive game in the world. A true challenge for every hunter"
Tommy Holmberg
317 CIC bull 7-day bespoke moosehunt, nordguide

A nice bull shoot by Nikolaj Trier during the event, Tested to the edge

Bespoke moosehunting area Nordguide

From our Bespoke moosehunting area in the mountains

Moosehunt nordguide in the mountains

Bespoke moose hunt in the mountains

Moosehunting with Tiko the karelian beardog

Moosehunting with Tiko, Nordguide

Moose and sauer 404 XTC nordguide

Bespoke moose hunting adventure in the mountains

Sauer XTC and Zeiss working tools in the mountains Nordguide

Calling for bulls in the mountains

Tested to the edge,nordguide

Moose hunt in the vast wilderness of Swedish Lapland,photo cr Byron Pace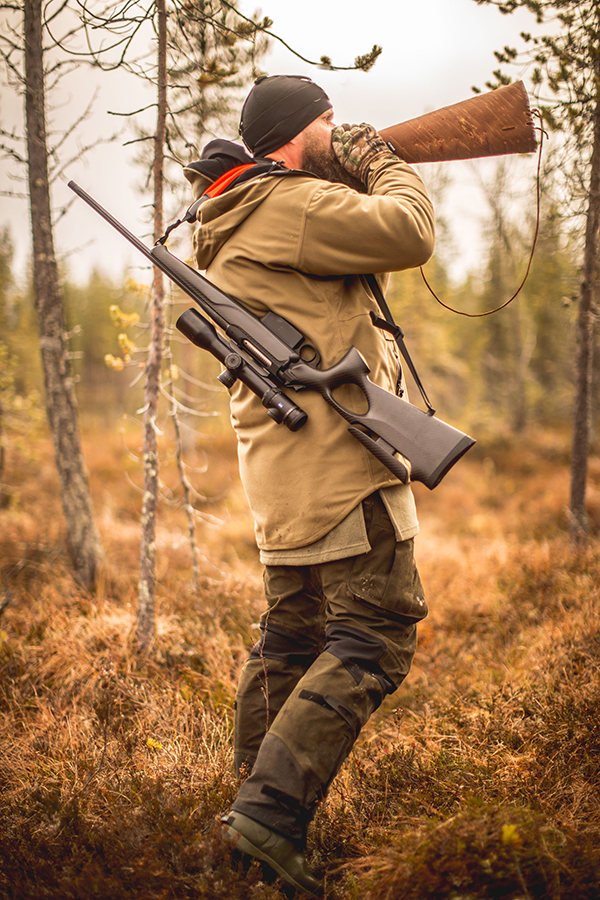 Bespoke Moose hunting programs in Swedish Lapland
"NordGuide offers one of Lapland, Sweden's broadest and most advanced hunting programs, where quality and professionalism are the keywords. We have lifelong experience of hunting and our well-trained guides are a professional guarantee of a successful adventure. Our programme offers exclusive hunting grounds all over Lapland, Sweden with a high standard of accommodation and generous range of alternative activities. Naturally we can help you turn your hunting dreams into reality."
Tommy Holmberg
Genuine accomodation & Haute cuisine of Swedish Lapland
"REGARDLESS IF YOU CHOOSE TO STAY IN A WOOD HEATED HUNTING CABIN OR IN A LUXURY CHALET, WE WILL COMBINE YOUR STAY WITH SELECTED WINES AND LOCALLY SOURCED FOOD"
Margaux in the hunting cabin Nordguide

A glas of wine in front of the fireplace

Kalix caviar and champange Nordguide

Kalix caviar and champange Nordguide

Oysters on the glacier-rocks before the sauna

Nordguide serves Oysters on the glacier-rocks before the sauna

Dinner inside the hunting camp

Camp Årrenjarka

Camp, årrenjarka, nordguide

Briefing before the tested to the edge event

Hunting cabin, nordguide

Moose hunting cabin

A buef of Moose,nordguide

After a long days hunt we serve a Buef of moose primerib