Pike fishing in Swedish Lapland 
Pike fishing in Swedish Lapland
"Big pikes in the vast wilderness of Swedish Lapland"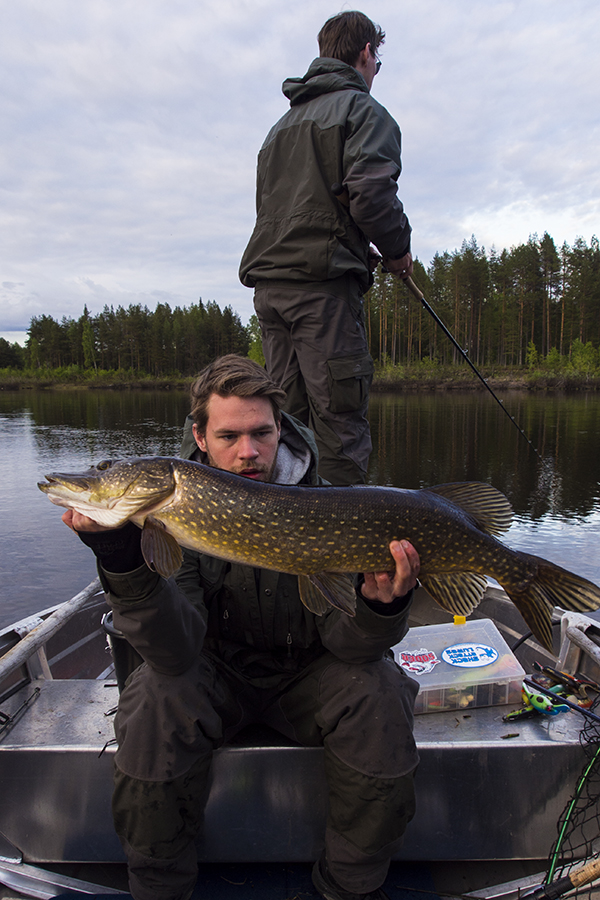 Big pikes of the Råneå river,nordguide
The Northern Pike
Esox lucius
The northern pike or pike is a predatory fish found all over Lapland, Sweden from coast to fell. The northern pike is one of our most popular sport fishing species and it is perhaps the most underrated fish in Lapland, Sweden. In truth, Pike fishing in our neck of woods can be magical.
The northern pike has a long green body and flat head, it can weigh up to 30kg and reach 150cm in length. The official Swedish record is 19,340kg.
The diet consists mainly of other fish but it can also take other small animals like rodents or ducklings and is not regarded as being very particular in taste.
You find pike along the whole coast of Lapland, Sweden. The pike appears to enjoy life in the brackish waters of the Gulf of Bothnia.
Most estuary areas where the north Swedish rivers are empty are good angling spots and we catch 100cm pikes every year.
With hydropower reservoirs, tarns, ponds, and lakes there are more angling options than your angling days.
In the forestlands, there are fishing waters that have not been fished for a season, or even for several years. Obviously, you are quite likely to find the pike angling spot of your dreams.
As the mountains are not where you think of pike fishing, it is surprising to learn that this is one of the best locations to undertake pike fishing. There is an incredible amount of good pike fishing in the border zone between mountain and forest. There are many secret pike lakes far up these mountain valleys.
Bespoke pike fishing expedition
5-day bespoke Pike fishing expedition in Swedish Lapland
Bespoke pike fishing expedition
7-day Bespoke Salmon fishing adventure-Torne and Lainio river
"Join us for an pike expedition in the vast wilderness of Swedish Lapland"
Gallery from this area
One of the great pikes of Swedish Lapland

Big pike,pc Jimi Ruonola

Pike fishing in Swedish Lapland

Nice pike in the archipelago,nordguide

Pike fishing in the archipelago, nordguide

Pike fishing with boat,nordguide

Pike fishing in the råneriver,nordguide

Chasing the big pikes of Råneriver,nordguide

Pike fishing in the midnight sun,nordguide

Pike fishing in Swedish Lapland,nordguide

Pike fishing 122cm,nordguide

The Fishing guide Vidar with 122cm pike,nordguide
"Join us for an pike expedition in the vast wilderness of Swedish Lapland"
Accomodation & Haute cuisine of Swedish Lapland
"REGARDLESS IF YOU CHOOSE TO STAY IN A WOOD HEATED HUNTING CABIN OR IN A LUXURY CHARLET WE COMBINE YOUR STAY WITH SELECTED WINES AND LOCALLY SOURCED FOOD WITH LOCAL FLAVOUR-HAUTE CUISINE OF SWEDISH LAPLAND"
Margaux in the hunting cabin Nordguide

A glas of wine in front of the fireplace

Kalix caviar and champange Nordguide

Kalix caviar and champange Nordguide

Oysters on the glacier-rocks before the sauna

Nordguide serves Oysters on the glacier-rocks before the sauna

Dinner inside the fishing camp

Camp Kangos, pc Ryan Heffron

Sauna, nordguide

August Sauna, pc ryan heffron

Fishing cabin august, nordguide

Cabin ryan heffron

A buef of Moose,nordguide

After a long days hunt we serve a Buef of moose primerib

Sauna and Jaccuzzi

After a hard day of fishing you need to relax for a while

Salmon camp

A great accommodation with access, pub, sauna, single rooms